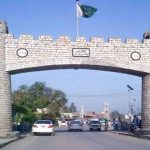 LAHORE: Chief Minister Shehbaz Sharif on Sunday stated that the Punjab government had no role in Raymond Davis saga and questioned in this regard should be asked from those who have been named in the book.
American intelligence operative Raymond Davis who killed two Pakistanis on January 27, 2011 in Lahore has penned down a memoir detailing his incarceration and the ensuing diplomatic row between Islamabad and Washington.
In his book, "The Contractor: How I Landed in a Pakistani Prison and Ignited a Diplomatic Crisis", Davis claimed that former ISI chief Shuja Pasha was clearly committed to ensuring that the deal for his release was successful.
Davis explains that the plan to rescue him by paying blood money hinged on the acquiescence of the 18 family members of his victims and ISI agents applied as much pressure as needed to get them to accept the diyat.
Addressing media, the chief minister said that the blood money was not paid by the provincial government. 'Those whose named have appeared in the book better be asked as to from which account Rs 2.34 million blood money to the heirs of the victims was paid.'
The book has ignited a new debate in the country, which have raised questions on the conduct of senior government officials and politicians in the matter.