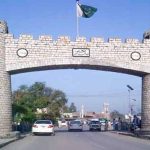 LAHORE: Anti-Terrorism Court (ATC) on Friday sent to jail Imran Ali – accused of raping and murdering minor girl Zainab in Kasur – on 14 days judicial remand.
During proceedings of the case today, Deputy Prosecutor General submitted a progress report Zainab's rape and murder case to the ATC.
The report submitted by Deputy Prosecutor General revealed that the suspect Imran Ali was also involved in rape of eight other minor girls.
He said that 16 days physical remand of the accused, who has confessed to his crime, has concluded.
He also said that next hearing of the case would be conducted in the jail due to security concerns.
Meanwhile, a special cell has been formed in the Kot Lakhpat Jail of Lahore for the trial of seven-year-old Zainab's alleged rapist and murderer Imran Ali.
Earlier, Imran Ali was handed over to police on a three-day physical remand by Anti-Terrorism Court (ATC), which expired today.
It is to be mentioned here that Zainab was raped and murdered after which, her dead body was thrown in a garbage dump in the city of Kasur early this month.