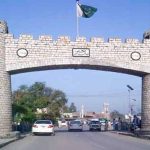 ISLAMABAD: Qatari ambassador Mr. Saqr bin Mubarak Al-Mansouri announced that his country will give jobs to 0.1 million Pakistanis and for this purpose visa centers are being established.
According to details, the Qatari envoy was addressing a ceremony organized to celebrate the national day of Qatar.
He highlighted that Pakistan and Qatar have been working together to further enhance cooperation in the energy sector.
Moreover, offering his support for the education department of Pakistan, the diplomat said Qatar will provide education to 1 million Pakistani children who are out of schools.
On the other hand, Prime Minister Imran Khan is expected to visit Qatar within the month of December.
Prime minister will call on his Qatari counterpart and other high-level officials to beef up mutual cooperation in various spheres including LNG agreement.
The premier will also invite businessmen to invest in Pakistan. Further, the prospects of sending Pakistani workforce to Qatar may also come under consideration during the talks.
Few days earlier, President Dr. Arif Alvi extended an invitation to Emir of Qatar, his highness Sheikh Tamim bin Hamad Al Thani to visit Pakistan during a meeting with Sheikh Falah Bin Jassim Bin Jabor Al-Thani, member of the ruling family of the state of Qatar, who called on the president at his office in the federal capital.
Arif Alvi warmly welcomed the visiting dignitary and expressed satisfaction on the steady growth of bilateral relations, particularly increasing volume of Pakistan's export to Qatar following the linking of Karachi Port with Hamad Port.