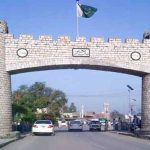 QUETTA: A blast at a coal mine has killed at least eight workers on the outskirts of Pakistan's southwestern city of Quetta, officials said on Monday, with five more feared dead.
The mine caved in after the miners used dynamite during an excavation in Sinjidi, some 45 kilometres (28 miles) east of Quetta, the capital of oil and gas rich Balochistan province.
"There were up to 22 workers present in different tunnels in the mine, some who were as deep as 4,000 feet (1,219 metres) when the blast occurred," provincial chief mines inspector Muhammad Iftikhar told foreign news agency.
Nine workers who were in the upper tunnels were pulled to safety, he said, but rescue teams later found the dead bodies of eight miners at the depth of 800 feet (240 metres).
He said rescue teams were still working to find the remaining five miners, but do not expect to find them alive.
Provincial secretary for mines Saleh Muhammad Baloch confirmed the incident and casualties.
He said that while the use of dynamite in the mines is officially prohibited, "the miners often use this explosive to quickly excavate."
Coal mines in the impoverished province are notorious for poor safety standards.
In a similar incident, at least 43 miners were killed in Sorange district of Balochistan in 2011.