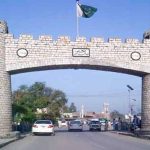 LAHORE: Pakistan Tehreek-e-Insaf (PTI) vice chairman Shah Mahmood Qureshi has alleged that the Lahore district administration had blocked the city with barricades to undermine the party's public rally, urging the party workers to Calling on workers to walk to the rally if the roads were blocked.
Talking to newsmen before the PTI's Minar-e-Pakistan rally, the former foreign minister asked that "how can they call themselves democratic? Are the workers of PML-N arrested?" . He accused the district administration of threatening the transporters not to hoist PTI flags of their vehicles. "Despite all the obstacles, the people will come," the PTI leader said. He said that peaceful public gathering was their constitutional right.
"The district administration looks not only helpless but also incapacitated. Why they blocked the city with shipping containers after permitting us to exercise our right to political freedom?" The court gave the permission, he said, adding there was no justification for containers.
"The police and the administration are requested to remove the containers," Qureshi appealed to the authorities. He said obstacles were proof that PTI's power show was proving to be a success even before starting.