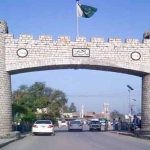 ISLAMABAD: Maestro of classical singing Rahat Fateh Ali Khan and Sara Raza would perform in a live musical concert here from 9pm to 12 am on Friday (April 6) to entertain the fun-lovers of Federal Capital, said official sources of ICT administration.
The event is a part of three-day family gala Spring Festival, which has been arranged by Islamabad Capital Territory Administration in collaboration with Pepsi Cola, Eighteen Marriott, Capital Development Authority and Islamabad Capital Territory Police from April 6 to 8.
Renowned singer Abida Parveen would perform live in Sufi Night at Convention Center from 6 pm to 12 am on April 8. Citizen could enjoy the night free of charge.
Meanwhile, arrangements have been finalised for holding the three-day Family Gala at Federal Capital to promote the rich and diverse Pakistani culture before the world.
Family Gala would have food stalls, cycling competition, musical concert, cultural /folk programmes, fireworks, flower exhibition, water sports, brunch, dog show, Mushaira night, special children's cricket matches, marathon race, vintage cars, supper festival, tree plantation and Sufi night.
Different events of the festival would be held in F-9 Park, Lakeview Park .
According to details, the festival would be inaugurated on April 6 at 7:30 pm at F-9 Park. Cultural /folk performance would done be on 7:35 pm followed by Army, Navy,
Rangers Band's display, firework would be on 8:15 pm. Day two will feature Cycling race from Islamabad Zoo to Daman-e-Koh.
A number of saplings would be planted at Damn-e-Koh during the entire festival.