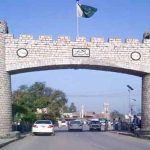 PESHAWAR: Rain water inundates roads, streets and bus stands in Peshawar as heavy rain lashed the city and adjoining areas here on Saturday.
Heat-stricken residents of Peshawar received respite from the sweltering heat as the rain turned the weather pleasant.
The heavy monsoon rain lashed Peshawar and its adjoining areas including Bannu, D.I Khan and North Waziristan. Many vehicles including motorbikes and cars stopped due to the rain.
Locals faced much difficulty heading to offices as the rain converted roads to puddles.
The Met Office predicted that rain-thundershower associated with gusty winds is expected to continue at scattered places in parts of country next three days.