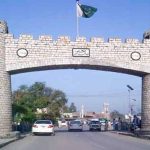 LAKKI MARWAT: The people of the area on Saturday staged a rally in favour of Pakistan Army and against the Pakhtun Tahaffuz Movement (PTM).
The rally was led by renowned Pashto poet Afgar Bukhari at Tajazai area which was attended by people from different walks of life.
The people were raised placards inscribe with slogans in favour of Pakistan Army and against PTM.
The speakers on this occasion said that Pakistan Army rendered a lot of sacrifices for the sake of the country.
They said they will support Army and will never allow anyone to work against the Army.
The speakers said that they will stand with Pakistan Army to save the country as well as the future of the youth.
The speakers strongly criticized PTM leader Manzoor Pashteen and termed him an agent of foreign.