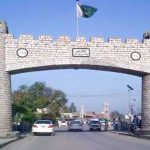 LAHORE: Pakistan Muslim League-Nawaz (PML-N) leader Rana Mashhood Ahmad Khan told that he has never involved in any deal.
While talking to media outside Punjab Assembly, Rana Mashood said that he has always raised voice against corrupt officials.
"My interview has been reported out of context," he clarified.
He also said that only those journalists can comment on the matter who have watched his full interview yesterday.
Rana Mashood further stated that I haven't specifically mentioned Pak Army anywhere in the whole interview and so it is being misinterpreted.
He added that we have always represented public emotions.
Earlier, Rana Mashhood claimed that PML-N has sorted out matters with establishment. He said, "I'm not talking about any deal. Establishment has always accepted Shehbaz Sharif".
"Matters aren't going as planned. If things continue to run in the same fashion, then PML-N will form govt in Punjab in the next two months", stated Mashhood.