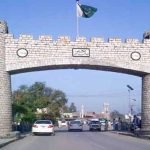 KARACHI: Rangers officers on Tuesday have recovered huge cache of weapons from storeroom of Go Aish Sifari Park located at Karachi's University Road.
On a tip-off received from intelligence agencies, the security forces conducted a search operation in the park and confiscated the arms.
According to Rangers spokesman, the recovered weapons included hand grenade, SMGs, latest rifles and dozens of bullets.
The official said that the weapons were found from ticket counter's storeroom.