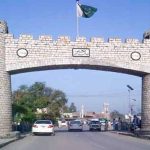 ISLAMABAD: Pakistan Tehreek Insaf (PTI) Chairman Imran Khan here on Tuesday said that all the political parties has raised rigging allegations over the recently held local government elections in Khyber Pakhtunkhwa adding that the only solution to rigging allegations is to hold re-elections in KPK.
While responding to the Chief Election Commissioner Sardar Raza Khan's statement, Imran Khan said that he never thought holding elections was akin to child's play.
Speaking to journalists in Islamabad, Khan said he never wanted to return to the National Assembly and only went because of the Yemen issue. He made it clear that he will accept the assembly's legitimacy if the ECP declares it so.
Earlier the Chief Election Commissioner Sardar Raza Khan was quoted in media reports to have remarked that Khyber Pakhtunkhwa police had turned a blind eye towards law and order problems on elections day and was unable to control the situation on ground.
The CEC was quoted to have further said, that holding elections again was not akin to child's play (Gudday Guddi Ka Khel Nahin Hai) adding that the Election Commission will decide what needs to be done.
Imran Khan reiterated his prediction that 2015 is the year for general elections in Pakistan. He told journalists that he feels that general elections will take place before the local government elections are held in Punjab.