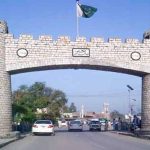 PESHAWAR: Polling is peacefully underway in the provincial assembly PK-23 constituency in Shangla district where a tough contest is expected between the candidates of Pakistan Tehreek-e-Insaf (PTI) and Pakistan Muslim League-Nawaz (PML-N).
According to the Election Commission of Pakistan (ECP), the polling will continue 6:00 pm without any break.
Thirteen candidates are in the run for the seat. Prominent amongst them include PTI's Shaukat Yousafzai, MMA's Muhammad Yaar, ANP's Umer Zada and PPP's Afsar-ul-Mulk.
The Election Commission of Pakistan (ECP) had declared the election for PK-23 null and void as the turnout of the women voters was less than 10 percent.
In July 25, general elections Shaukat Yousafzai of the PTI had won the seat by securing 17,399 votes while Muhammad Rishad Khan of the PML-N was the runner-up.
A total of 135 polling stations, including 21 for women, have been established in the constituency, having 200,555 registered voters, including 86,728 women.
Strict security measures had been adopted to ensure free and fair election in a peaceful atmosphere.