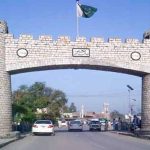 ISLAMABAD: Jamiat Ulema-e-Islam-Fazl (JUI-F) parliamentarians on Tuesday submitted a resolution in the National Assembly secretariat against the landmines and improvised explosive devices planted throughout the South Waziristan Agency.
The resolution was submitted by Maulana Jamaluddin, Naeema Kishwar and Shahida Akhtar. The resolution maintained that around 55 landmine explosions had occurred in South Waziristan since the repatriation of the temporarily displaced families. The resolution stated that around 76 people were killed and score others including women and children were injured in the landmine explosions in the restive South Waziristan.
They adopted that most of the injured were children and demanded of the federal government to deploy more bomb disposal squads in the agency.
They said that the squad should be assigned to find and defuse all explosives planted by the militants when militancy was on peak. Two children were injured seriously two days ago when a toy bomb exploded in Sarvekai sub-division of the agency.
Meanwhile, elders of the agency held a jirga and demanded of the political administration to the clear the agency of landmines that has been claiming lives of innocent people.