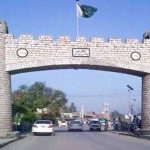 LAHORE: Pakistan Tehreek-e-Insaf (PTI) on Monday has submitted a resolution against recent increase of Rs 4.06 in petroleum products' prices in Punjab Assembly.
The resolution tabled by PTI's Sadia Sohail demanded the government to immediately withdraw the decision as it will cause inflation in the country. She said that this step will also create difficulties for poverty-stricken people.
On the other hand, the decision was also challenged in Lahore High Court (LHC) by judicial activist panel's head Azhar Siddiq Farooq.
He said that the government's claims of high petroleum prices in international market are false, adding that its unconstitutional to take more than 15 percent additional sales tax.
Earlier, Prime Minister (PM) Shahid Khaqan Abbasi had approved Rs 4.06 per litre hike in petrol price on Sunday on recommendation of Oil and Gas Regulatory Authority (OGRA).
Revised price of the petroleum product stands at Rs 81.53/litre and that of high-speed diesel stands at Rs 89.91/litre with an increase of Rs 3.96.
Financial advisor Miftah Ismail told that light-speed diesel price now is stagnated at Rs 58.37/litre with a hike of Rs 6.25 per litre. Kerosene oil price has been revised with an increase of Rs 6.74/litre taking it to Rs 64.32/litre.
The financial advisor cited hike in prices in the international markets for upward revision here in Pakistan.