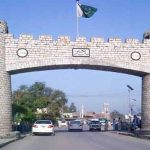 SARGODHA: At least eight people were killed and one other sustained injuries when a speeding dumper collided with a rickshaw near Sargodha on Sunday.
According to details, a rashly driven dumper hit a rickshaw at the Faisalabad Road in Chack 110 Janubi just before 'Iftar' time, killing six persons on the spot and wounding three others.
The deceased were identified as rickshaw driver Saifullah, Janatan Bibi, Talib Hussain, Imtiaz, Muhammad Akbar, Sohail and two others. One person was wounded in the accident and was shifted to a nearby hospital
The bodies of the deceased were handed over to their heirs. Eyewitnesses have blamed driver of the dumper for the accident. The driver of the dumper managed to escape from the scene.