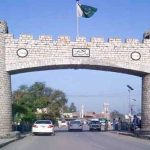 PESHAWAR: Ruckus witnessed for the second consecutive day in Khyber Pakhtunkhwa Assembly as members of the ruling Pakistan Tehreek-e-Insaf (PTI) and Pakistan Muslim League-Nawaz (PML-N) chanted slogans against each other leaders.
During the KP Assembly session PML-N lawmakers chanted 'Ro Imran Ro' slogans and in response PTI lawmakers chanted 'Go Nawaz Go' slogans. The pandemonium erupted as PML-N MPA Aurangzeb Nalota call 'Tehrik-e-Insaf' as 'Tehrik-e-Nainsaf'. She objected over the unfair distribution of development funds among MPAs.
At this the assembly floor turned into fish market as lawmakers from both the opposition and treasury benches chanted slogans and criticized each other party leaders.
Amid rumpus and slogans, the speaker KP Assembly Asad Qaisar lost control over the House and adjourned the session till February 20.
A JUI-F female lawmaker walked out of the House for two minutes when the Chair did not allow her to speak on a Point of Order.
The lawmakers belonging to PML-N and PTI protested by chanting slogans against each other in front of dais, following which the Speaker adjourned the sitting until February 20, 2017.