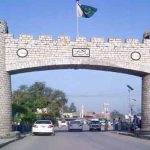 KYIV, Feb 26 (Reuters) – Russian forces captured the southeastern Ukrainian city of Melitopol on Saturday, Russia's news agency reported, as Moscow launched coordinated cruise missile and artillery strikes on several cities, including the capital Kyiv.
Ukrainian officials were not immediately available for comment on the fate of Melitopol, a city of about 150,000 people. If the Interfax report citing the Russian defence ministry is confirmed, it would be the first significant population centre the Russians have seized since their invasion began on Thursday.
Earlier, Ukrainian officials said Russian forces fired cruise missiles from the Black Sea at Mariupol, also in the southeast, as well as Sumy in the northeast and Poltava in the east.
Kyiv authorities said a missile hit a residential building, and a Reuters witness said another hit an area near the airport. There was no immediate word on casualties. Gunfire erupted near city-centre government buildings at around dawn, a Reuters witness said. The cause was not clear.
President Volodymyr Zelenskiy, speaking in a video message from outside his Kyiv office, was defiant.
"We will not put down weapons, we will defend our state," he said.
After weeks of warnings from Western leaders, Russian President Vladimir Putin invaded from the north, east and south, an attack that threatens to upend Europe's post-Cold War order.
Putin said he had to eliminate what he called a serious threat to his country from its smaller neighbour and he cited the need to "denazify" Ukraine's leadership, accusing it of genocide against Russian-speakers in eastern Ukraine.
Kyiv and its Western allies dismiss the accusations as baseless propaganda.
In a televised meeting with Russia's Security Council on Friday, Putin appealed to Ukraine's military to overthrow their "neo-Nazi" leaders.
Russia's defence ministry said their forces used air- and ship-based cruise missiles to carry out overnight strikes on military targets in Ukraine, Interfax said.