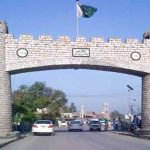 KARACHI: Pakistan Peoples Party (PPP) has appointed former senator and MPA Saeed Ghani as the party president of Karachi division.
In a twitter post, Saeed Ghani thanked the PPP chairman Bilawal Bhutto Zardari, former President Asif Ali Zardari, Faryal Talpur and Nisar Khuro for the appointment. He said that he would "try his best to serve Karachi" after being appointed president of PPP's Karachi division.
Javed Nagori was also appointed as the general secretary of the PPP, Karachi division.