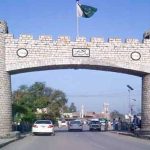 KABUL: Following crucial face-to-face talks in Murree, a tourists resort close to Islamabad, a clandestine meeting was held between a two-member Taliban delegation and Afghan government officials in Saudi Arabia, a well-placed source said on Monday
Representatives of Taliban's Qatar office were also in attendance, a senior Afghan official familiar with the development told Pajhwok Afghan News. The Saudi Arabia contact took place soon after the peace talks in Pakistan.
The ground-breaking in Murree were also attended by observers from China and United States. The parties agreed to meet again after Ramadan, probably within a week, either in Pakistan or China.
Wishing anonymity, the official said Saudi authorities had invited the two-member delegation soon after the Murree talks to the oil-rich kingdom, where detailed discussions regarding the peace process were held.
Meanwhile, a source close to the Taliban delegation said Pakistani officials, who briefed the Saudi authorities on the Murree sitting, had facilitated the latest round of furtive negotiations.
Taliban's former deputy foreign minister Mullah Abdul Jalil and former ex-governor of Kandahar Mullah Mohammad Hassan Rahmani met Saudi officials at Pakistan's request. Some Pakistani officials also visited Riyadh to join the meeting.
The delegation held thoroughgoing discussions with top Saudi and Afghan officials, including Haji Din Mohammad, on the agenda of the dialogue.
One Afghan official confirmed Haji Din Mohammad's visit to Saudi Arabia and his meeting with the Taliban delegation and representatives from their Qatar bureau. However, he refused to give further details of the meeting. Taliban representatives from the Qatar office might participate in the second round of discussions, he hoped.
The venue of the second round of discussion has not been finalised yet, but China or Pakistan may host the dialogue. A source in the High Peace Council (HPC) earlier indicated the talks might take place in China.
On the other hand, the Pakistani media reported last week that Islamabad would host the second round of dialogue, where a number of confidence-building measures, including a ceasefire, are to be discussed.
Maulvi Shahzada Shahid, HPC spokesman, said the two parties had agreed in Murree to meet again on July 29. Release of prisoners, coordination, government system, amendments in the basic law and removing the names of Taliban leaders from the blacklist will be on the agenda.
Mullah Mohammad Omer, Taliban's supreme leader, supported the peace talks during his Eid message. President Mohammad Ashraf Ghani, who has evinced a willingness to consider Taliban's demands, has welcomed Omar's message. (Agencies)