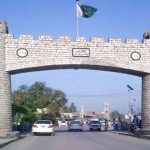 ISLAMABAD: Federal Information Minister Fawad Chaudhry has said that besides setting up oil refinery, the Saudi Arabia would invest Rs30 billion for discovery of oil and gas in Pakistan.
He was addressing a press conference along with Petroleum Minister Ghulam Sarwar after federal cabinet meeting, which was chaired by Prime Minister Imran Khan on Thursday.
He said that the cabinet approved the agreements to be signed with Saudi Arabia, which were discussed during a recent visit of the Kingdom's delegation, adding that the construction of an oil refinery in Gwadar was also approved.
Ghulam Sarwar claimed that Saudi Arabia was interested in Gwadar and CPEC and desired to immediately invest in an oil refinery. He disclosed that accord for the oil refinery would be a government to government (G2G) agreement. He said that Saudi Arabia's minister of energy will visit Islamabad next month to decide the details of the agreements. He said that the provincial government would be taken onboard at the time of the agreements.
The information minister said that the Prime Minister House would be converted into a high-level research university.
The cabinet also approved appointments of new members in the Ministry of Finance and the fiscal and monetary policy boards, he said, adding that the government has decided to remove those officials who were illegally appointed by former finance minister Ishaq Dar.
Chauhdry announced that presidents of National Bank, First Woman Bank, Zarai Taraqiati Bank, SME Bank and Jameel Ahmed and Shams-ul-Hasan deputy governors State Bank have been removed.
The information minister further said that only the federal cabinet can make appointments in ministries.
Further, members of the cabinet approved a summary to establish the Centre of Excellence in collaboration with Turkey in addition to an agreement of bilateral cooperation for technical training between Pakistan and Japan.
Explaining increase in the recent gas tariff, the Petroleum Minister said only ten to twenty percent rate has been increased for the lowest slab, which forms eighty percent of the total population consuming gas in the country. He said twenty percent of the population uses gas as fuel. He said one hundred and forty-three percent increase in gas tariff will affect only two percent of the gas consumers.
On the other side, the Minister said LPG cylinder price has been decreased from sixteen hundred rupees to fourteen hundred rupees. He said the gas rate has been a little bit increased to meet the one hundred and fifty-eight billion rupees deficit incurred by the last government.
Ghulam Sarwar Khan said the government is also providing relief to people on petroleum prices. He said the government will bear the burden of eight billion rupees this month by not increasing petroleum prices.