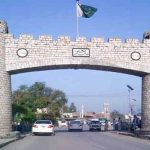 LAHORE: The Supreme Court (SC) has accepted the Punjab government's appeal against Lahore High Court's verdict in Orange Line Metro Train case on Friday.
The Lahore High Court (LHC) had issued stay order against construction work on 12 places of Orange Line Metro Train project. The Punjab government has appealed in the Supreme Court against the LHC's verdict.
According to reports, the Supreme Court Friday set aside the Lahore High Court decision and accepted the appeal of the Punjab government, allowing the government to restart construction on the remaining part of the project.
The SC's five-member bench headed by Justice Ejaz Afzal had reserved the decision regarding the Orange Line Metro Train case on April 17.
The proceedings regarding the project had begun in the Supreme Court after the Punjab government and others had appealed a Lahore High Court (LHC) verdict ordering partial halting of construction as it was damaging ancient heritage sites of the provincial capital.
The LHC in August 2016 had ordered the suspension of construction on the $1.6 billion OLMT within 200 feet of 11 historical sites in the city to save them from damage.
The historical monuments include the Shalimar Gardens, Gulabi Bagh Gateway, Chauburji, Zebunnisa's Tomb, Lakshmi Building and the General Post Office. These heritage sites are protected under the Punjab Special Premises (Preservation) Ordinance, 1985 and Antiquity Act, 1975.