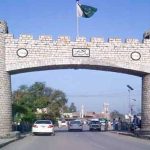 LAHORE: Supreme Court of Pakistan on Sunday accepted petition of Election Commission of Pakistan (ECP) for hearing and annulled the decision of Lahore High Court regarding nomination forms of the electoral candidates for the upcoming general elections.
Former Speaker National Assembly Ayaz Sadiq and Election Commission of Pakistan have filed petitions in SC against the LHC decision.
In its petition, the ECP said the decision is contradictory and it could disturb the election schedule.
It prayed the Apex Court to annul the decision of Lahore High Court.
The apex court bench, headed by Chief Justice of Pakistan Justice Mian Saqib Nisar, announced the verdict after former speaker of National Assembly and Pakistan Muslim League-Nawaz leader, Sardar Ayaz Sadiq, and Election Commission of Pakistan had filed petitions challenging the LHC's rulings on the nomination forms.
On Friday, the LHC had ruled that the nomination forms of the electoral candidates do not seek necessary information and declarations such as details on educational background, criminal record or if they are dual nationals.
The LHC also ordered ECP to again add the requirements of Articles 62 and 63 of the Constitution in the nomination papers.
During the court proceedings, the petitioners had stated that LHC's decision on nomination forms would delay elections, adding that they took the matter to Supreme Court as they did not want elections to be postponed.
The elections are feared to be delayed as the filing of nomination papers has been put on hold following LHC's ruling. Earlier, the nomination papers were to be filed between June 2 and 6.
Ayaz Sadiq and ECP's counsel had also requested the CJP to hear petition at the earliest.
On Saturday, Sadiq had announced that he is going to challenge Lahore High Court's decision in relation to the nomination papers.
Sadiq, while speaking to media, said that all the parties in the parliament approved Election Reform Act.
He said that as the custodian of the assembly it is his responsibility that he should file a petition against the decision of the single bench and declare it void.
Sadiq said that due to the ECP forming new forms can delay the elections, therefore, he will appeal that the said date should not be changed so elections can he held on time.
He further said that similar conspiracies against the Pakistan Muslim League-Nawaz even took place in 2002 but they will not be successful.