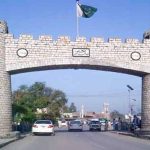 ISLAMABAD: The Supreme Court on Friday ordered formation of a commission comprising a high court judge to probe the 2014 Army Public School (APS) terrorist attack in Peshawar.
Headed by Chief Justice of Pakistan Mian Saqib Nisar the three-judge bench of the apex court directed the Peshawar High Court Chief Justice to immediately set up the commission.
The commission is required to probe the incident and submit its report within six weeks.
The chief justice regretted that the top court had earlier given this order, but it couldn't be implemented.
The CJP had taken a suo motu notice of the deadliest terror attack in the history of the country, in which 131 schoolchildren and 10 other people were killed by armed terrorists in the APS on Dec 16, 2014.
Earlier this year, the top judge ordered formation of a judicial commission to probe the Army Public School (APS) attack.
The Peshawar High Court (PHC) chief justice was directed to form the commission, comprising at least one high court judge, and submit a report within two months.
In June this year, the Peshawar High Court had expressed displeasure over current monument for APS martyrs, and ordered the provincial government to hire services of a good architect and prepare design for the monument acceptable to the parents of the martyrs.
The order was issued by a two-member bench comprising Justice Qaisar Rashid Khan and Justice Muhammad Nasir Mehfooz, while hearing a case filed by Fazal Khan who had challenged and declared the structure built in the memory of APS students as unsuitable for representing the sacrifices of children.
The court directed the Khyber Pakhtunkhwa government to remove the 'fiberglass monument' recently constructed in the memory of the Army Public School (APS) attack victims and design a reasonable structure that represents the emotions of victim families.
"This is regrettable. You just placed a fiberglass sculpture to represent the sacrifice of the APS students," Justice Qaisar remarked while hearing the case.