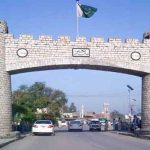 ISLAMABAD: The Supreme Court (SC) has directed the authorities concerned to take steps on war footing to address the issue of water shortages in the twin cities of Islamabad and Rawalpindi.
A three member bench of the apex court, headed by Chief Justice Saqib Nisar, was hearing a case pertaining to shortage of water in the twin cities in Islamabad on Monday.
The Chief Justice, in his remarks, asked the Prime Minister to look into the issue of water and power personally.
He noted that half of the population in the Federal Capital is deprived of water.
The Chief Justice asked the Metropolitan Corporation Islamabad and WASA Rawalpindi as to what steps they have taken to resolve the issue of water shortages.
The representative of MCI told the court that short, medium and long term plans have been prepared to address the issue.
He said there are also plans to build small water reservoirs in the Capital.