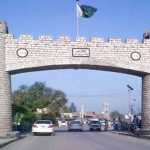 ISLAMABAD: The Supreme Court (SC) of Pakistan on Wednesday adjourned hearing of a case related to Memogate scandal for one month.
During today's hearing, secretaries of the Interior and Foreign ministries appeared and informed the court that they need one month time to arrest Hussain Haqqani – a former Pakistani Ambassador to the United States.
Approving the request of the ministries, the court granted one month deadline for the repatriation of Hussain Haqqani and adjourned the case.
Chief Justice of Pakistan (CJP), Justice Saqib Nisar who headed a three-member bench of the court hearing the case, remarked that opinions are given over the case in TV talks shows.
It is being said in the talk shows as to what difference would it make to reopen the case, said the CJP and remarked that they want to insure implementation of law.
Justice Saqib Nisar said that chief justices of three high courts gave verdict on Memogate scandal but none of them were implemented.
He also considered ban on media commentaries on pending cases and said that those opine on court cases in talk shows should be summoned to court for their expert opinion.