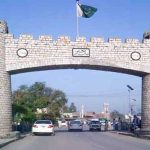 ISLAMABAD: A full court reference to honor Chief Justice of Pakistan (CJP) Asif Saeed Khosa, who is retiring today (Friday), is underway in Supreme Court (SC).
Accoridng to details, SC judges, vice chairman Pakistan Bar Council, president of the apex court and other members have participated in the event.
However, Justice Qazi Faez Isa is on leave and attorney general is abroad due to which, they didn't attend the reference.
Earlier today, while holding the last hearing of his career, the CJP extended best wishes to everyone and hoped for the bright future of judiciary in the country.
Justice Asif Saeed Khosa will be succeeded by Justice Gulzar Ahmed who is the most senior judge of the Supreme Court of Pakistan after him. Justice Gulzar Ahmed will take oath as CJP on Saturday.
During his career as judge of the higher judiciary since 1998, Justice Khosa passed many landmark judgements and noted important judicial observations.
The cases that gave him international fame include disqualification of two sitting prime ministers — Syed Yousaf Raza Gilani and Mian Nawaz Sharif — and most recently extension case of Army Chief General Qamar Javed Bajwa.