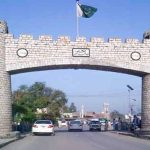 ISLAMABAD: The Chief Justice of Pakistan Justice Saqib Nisar expressed regret at journalist Shahid Masood's continued intransigence, levelling a ban of 3 months on him.
Earlier during hearing today, upon Shahid Masood's remarks on Additional Advocate General, Asma Hamid, which angered the CJP, the chief judge said that Shahid Masood insulted his court officer.
Imposing a ban of three months on him, the CJP remarked that although they would not hand him the death sentence as prescribed by himself in his show, he has to file a written apology too.
In the last hearing, Justice Saqib Nisar rejected anchorperson Shahid Masood's apology, observing that there would be punishment according to law.
The anchorperson had claimed during a late night show that Zainab s suspected rapist and murderer was a member of a pornography gang, which also includes a Punjab minister. During another hearing of the case, Masood had also told the court that the suspect has 37 foreign accounts.
An investigation committee, formed by SC to probe the accusations of anchorperson Dr Shahid Masood regarding the convict Imran in Zainab murder case, submitted its report in the Supreme Court terming the accusations leveled by the anchorperson as baseless.