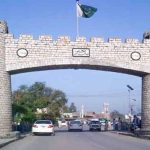 ISLAMABAD: The Federal Investigation Agency (FIA) has contacted Interpol regarding the extradition of former ambassador to the United States Husain Haqqani, the Supreme Court was told on Thursday.
A three-judge bench headed by Chief Justice of Pakistan Justice Mian Saqib Nisar heard a suo motu case pertaining to the implementation of the 2011 Memogate scandal.
During the hearing, senior legal expert Ahmer Bilal Soofi informed the bench that the FIA has submitted a challan in the special court against Haqqani.
The permanent warrants for Hussain Haqqani have also been issued, the legal expert said.
Soofi further said that a progress report would be submitted to the apex court during the next hearing.
Hearing of the case was then adjourned for an indefinite period.