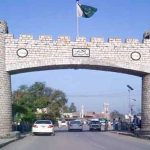 ISLAMABAD: The Supreme Court has issued on Tuesday notices to 46 people, including Khursheed Shah, for occupying the land of Hindu community in Sindh.
Chief Justice Saqib Nisar was hearing the case. The additional attorney general said that the report on the occupation of Hindu community's land has been prepared.
PTI MNA Ramesh Kumar Vankwani said that 46 complaints have been received. "Notices should be issued to those who have grabbed the land," said the chief justice. Khursheed Shah says that he hasn't grabbed the land, but you keep reiterating your accusations, the top judge told Vankwani. The PTI MPA said that former Sukkur commissioner has verified his claims.
Related: Khursheed Shah occupied Hindu community's land in Sukkur, PTI MNA tells SC
At the last hearing, Vankwani has accused the former opposition leader occupying the land of the Hindu community in Sukkur.