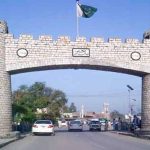 ISLAMABAD: The Supreme Court (SC) Tuesday nullified the decisions of the Islamabad High Court (IHC) and the Sindh High Court (SHC) to release undertrial prisoners on bail due to novel coronavirus.
During the previous hearing, Chief Justice of Pakistan (CJP) Justice Gulzar Ahmed had remarked that the apex court wants to analyze the federal government's performance to counter the pandemic.
The CJP had said, "No work is being done by the government apart from holding meetings. The Outdoor Patients Departments (OPDs) of all hospitals in Islamabad are closed. What kind of medical emergency has been imposed in the country?
"Every hospital and clinic should remain open. The Ministry of National Health Services wrote a letter to the Supreme Court to close its dispensary. Why should the dispensary be closed? Is the pandemic being countered this way?"
The attorney general had argued that the federal government is taking best measures against the coronavirus outbreak. The CJP replied that the federation is doing nothing and the report that you have submitted is clarifying that.