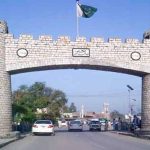 ISLAMABAD: The Supreme Court (SC) of Pakistan on Wednesday served another notice related to contempt of court on Pakistan Muslim League-Nawaz (PML-N) leader Nehal Hashmi.
Hashmi appeared in court today as the chief justice summoned him a day earlier over his controversial remarks about the judiciary after his release from prison (sentenced to imprisonment for anti-judiciary remarks) last month.
During the hearing today, a video of Hashmi's media talk – recorded after his release from jail – was played in the court.
In response to the video, Hashmi claimed that he was "acting" and swore in the court that he could never say these things about judiciary.
Hashmi said in the court that he was ashamed of what he had said when the video was played for a second time.
The next hearing of the case will be held on Monday.
The court also issued notices to vice-chairmen of all the bar councils to submit their response to the court's plan to cancel Hashmi's license to practice law.
Meanwhile, Pakistan Bar Council Vice-Chairman Kamran Murtaza excused himself from representing Hashmi in the case.