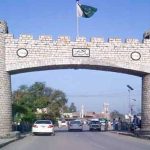 ISLAMABAD: The Supreme Court summoned on Monday interior minister and interior secretary in a case pertaining to charging extra fee from expatriates for identity cards.
A three-member bench, headed by Chief Justice of Pakistan Mian Saqib Nisar, heard the suo-moto case regarding government charging extra fee for National Identity Card for Overseas Pakistanis (NICOP) Monday morning. The bench comprises Justice Ijazul Ahsan and Justice Sajjad Ali Shah.
During the court proceedings, the CJP questioned, "What is the reason for sending the summary regarding the change in prices of identity cards? On what basis has the government send this summary?"
The CJP then summoned interior minister and interior secretary to appear before the court and provide reasoning.
It was later informed that interior minister and secretary have gone to Gwadar for a two-day visit. Responding to this, the CJP said that the case should be adjourned till Monday (March 26).
The CJP suggested that a commission should be formed to review the fee structure for identity cards.
On March 21, 2017, the Chief Justice had taken suo motu notice over the exorbitant fee being charged for the issuance of NICOP and cancellation of the Pakistan Origin Card (POC).
The issue came into court's notice after a non-resident Pakistani complained that the issuance fee for a Pakistan Origin Card (POC) had been increased to Rs22,000, and the cancellation fee to Rs31,500.
According to the complaint, the POC fee was earlier increased to $150 from $100 and then to Rs22,000 for preparation and Rs31,500 for cancellation of the card. The complainant alleged that the Nadra's move has discouraged overseas Pakistanis to opt for the POC.
Reasoning the fee hike, National Database and Registration Authority representatives had claimed before the SC last month that the price of the new chip-based smart identification card was comparatively high due to its distinctive features.