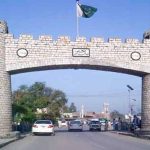 ISLAMABAD: Supreme Court (SC) on Monday has withdrawn decision of opening markets on Saturdays and Sundays amid coronavirus outbreak.
During the hearing of a case pertaining to COVID-19, Chief Justice Gulzar Ahmed has directed the government to prepare legislation to deal with the virus.
Meanwhile, the court has also sought details on locust attack by the government while record on getting plane from Turkey on lease for spray has also been summoned.
Moreover, the hearing has been adjourned for two weeks.