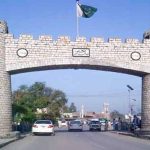 PESHAWAR: Children have returned to schools as middle, high and higher secondary schools across Khyber Pakhtunkhwa reopened today August 1 after summer vacations.
The Khyber Pakhtunkhwa government had announced summer vacations ahead of schedule due to hot weather.
The Elementary and Secondary Education Department had notified that summer vacations will begin at government primary schools in plain areas of KP from 17 May and end on 12 August. The vacations of middle, high and higher secondary schools also begun on 17 May, but these schools reopened today on 1 August.
Similarly, in Sindh, schools reopened after being off for nearly two and a half months. In June, the Sindh education department had recommended an extension in the summer break of schools, colleges and universities till July 27 in view of the forthcoming elections. However, last month the caretaker Sindh government approved of a recommendation seeking an extension in the summer break till July 31.
In Balochistan, schools also re-opened after summer vacations. According to the Balochistan education department, the 17 districts that will have schools opening from today include Sibbi, Lasbela, Gawadar, Turbat, Jaffarabad, Naseerabad along with Jhal Magsi.