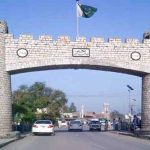 CHAGHI: Security forces on Wednesday claimed to have foiled a major bid of terrorism by reportedly seizing huge cache of arms and ammunition at Pak-Afghan border area.
The personnel of Frontier Corps along with intelligence officials reportedly conducted a joint raid at Bramcha area of district Chaghi located along the porous Pak-Afghan border.
A security official said that security forces recovered suicide jackets, explosives, hand grenades, mortar shells from the compound of the terrorists.
He said the terrorists were planning to smuggle the weapons to interior areas of Balochistan. "The terrorists wanted to target projects related to the China-Pakistan Economic Corridor," the officer claimed.
Acting on a tip off, the intelligence agency and FC foiled the terrorism bid, he added. The weapons were smuggled to the bordering area from neighbouring Afghanistan.
Bomb disposal squad was called in the area to defuse the explosives and bombs recovered by security forces.
In a separate raid, security forces personnel seized 35 mortar shells from a compound in Balochistan's Dera Bugti district. The miscreants had dumped mortar shells to target civilians and security forces in the area, said an official.