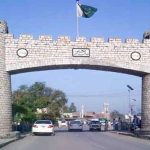 KARACHI: The Pashtun Tahafuz Movement (PTM) held a large rally in Karachi on Sunday to demand the rights of the Pashtun community.
Stringent security measures were taken and a heavy contingent of Rangers were deployed at Al-Asif Square Ground.
The crowd comprised young people belonging to various ethnicities who listened intently to the speeches. The PTM leaders who spoke at the rally said that former Malir SSP Rao Anwar was being provided VIP protocol in custody.
They demanded that authorities should treat Anwar as a suspect and should be punished for killing people in cold blood.
One of the speakers demanded former president General (r) Pervez Musharraf be arrested for 'selling' Pakistanis for dollars.
Organisers of the rally asked participants to refrain from chanting slogans against state institutions and demanded immediate release of the PTM's arrested workers.