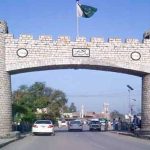 PML(N) senior leader and veteran politician Senator Mushahidullah Khan passed away late on Wednesday night at the age of 68, Khyber News reported.
The cause of death was unknown till the filing of the report. However, according to various media reports the Pakistan Muslim League-Nawaz leader was seriously ill since December last year. The PML-N leadership had awarded ticket to Khan for the Senate's general seat in the upcoming polls of the upper house. Taking to Twitter, senior leadership of the PML-N including Vice President Maryam expressed grief over the death of the vocal leader in the Senate and prayed for his higher ranks in the hereafter.
Born in 1953 in Rawalpindi, Mushahidullah Khan has been a member of the Senate of Pakistan since March 2018 and previously served as a minister for climate change in Nawaz Sharif's third term as the prime minister.
He received his early education from Islamia High School in Rawalpindi and also completed his graduation from Gordon College in the garrison town. He completed his law degree from Karachi University in 1997. Mushahidullah was an important part of PML-N since 1990. He was recently given the party ticket to contest Senate's upcoming elections scheduled for March 3 on general seats.