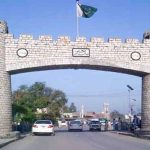 PESHAWAR: The Khyber Pakhtunkhwa police on Wednesday earned another honour of bravery by getting the country's first ever female member of the Bomb Disposal Unit (BDU), widely considered a man's job.
Rafia Qaseem Baig, who is currently getting two-week explosives handling training 30 others male trainees in explosives school in Nowshera, said that she wanted to send a message to the world about the bravery of KP's men and women.
If KP's women are so daring, [imagine] what level [of courage] male soldiers will possess," she says.
Recalling her first day of joining police force seven-years ago, she said that a blast had occurred near a sessions court on that day. The explosion seven years ago was what drove her join the force and she hasn't looked back since.
She said that a woman could turn any hardship into ease if she is willing.
She wishes to present a positive image of her country and the police force "practically".
For Rafia, it would be a matter of pride for her family if she were to sacrifice her life for the country while tackling explosives to save people's lives.
"My country is my home… the Pakistani nation is my family."
Earlier, the KP police had also recruited female police officers including SHO, ASI, and traffic officers etc.