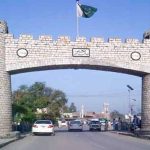 KARACHI: At least seven people including women were killed and 20 others injured in a roadside accident near Sassi Toll Plaza in Karachi on Tuesday.
A fast-moving passenger coach going out of driver's control, sped into a pillar that left six people dead and others wounded.
According to eyewitnesses, cause of the accident was over-speed and brake failure.
The bodies and the injured have been shifted to Jinnah Hospital.