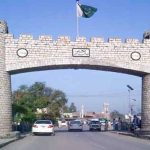 GILGIT: Seven men were killed on Thursday when a passenger van plunged into ravine near Hoper valley of district Ghizer in Gilgit-Baltistan.
Police said the van, which was carrying seven people including driver was going to Ghakuch from Ghahkuch via the Ghizer-Chitral road, when around 9am the van plunged into deep ravine.
As a result of the accident, all the men on-board the vehicle passed away. The van's passengers were identified as Yasir, Sajjad, Syed Amin , Sadrudin , Wadood and Zafran, all of whom were residents of Haton village while the driver of the van was identified Ali Madad a resident of Yasin Valley.
Police said that the six passengers belonged to a group of religious preachers, who were initially making their way to Hoper via Ghizer Chital road on foot, but on their way Madad decided to give them a lift on his van.
Police said that the victims' bodies have been retrieved from the ravine and will be handed over to the relatives once legal proceedings are complete.