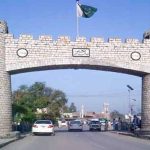 CHITRAL: Seven people lost their lives and nine others sustained critical wounds in a tragic accident on Wednesday when a van rammed into a car near Booni area of Chitral district.
Reportedly, the van was on its way to Upper Chitral from Lower Chitral when its driver lost control of the vehicle, ploughed into a car and fell into a deep gorge.
Rescue officials rushed to the spot and transferred the deceased's bodies and injured persons to the District Headquarter Hospital where doctors declared condition of three of them to be critical.
Emergency has been declared in the hospital.