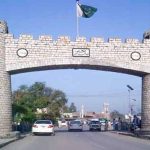 ---
PESHAWAR: A seven-year-old child was found dead on the outskirts of Peshawar over the weekend. Lodging a complaint with the local Rehman Baba Police Station, Masal Khan, resident of Achar village, stated that Abdul Aziz, seven, was his only male child. Abdul Aziz was very fond of his uncle Najaf Khan and he even slept with him every day. "Abdul Aziz was with me during dinner after which I left for night prayers. I came back and slept soundly. Next morning (on Friday) I woke up early in the morning and offered my morning prayers as per my daily routine. When I reached home children from neighborhood visited me and said that my son was lying dead in the graveyard. When I rushed there I saw him lying near the mosque in the graveyard. He had been shot," he informed police, saying that he had no enmity with anyone and had no idea what happened to his son.
Talking to media SP Waqar Khan said that the child had received one bullet in his head and doctors had confirmed that there was no rape involved. "It is strange that the absence of the child was not felt despite the fact that he was the only male child of Masal Khan. When we asked his father and uncle about it they said that each one was thinking that the child was with the other so both went to sleep without noticing that the child was not home," he said, adding that apparently the child went missing after eating his dinner on Thursday night.
"The child was found just outside his home in the graveyard lying with the wall of a mosque barely 50 steps away. So he was killed and left near his residence," said Waqar, adding that a police investigation team had been formed to investigate the matter and the body had been sent for autopsy which will confirm the timing of the death.