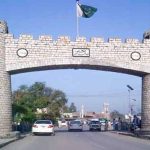 Several people were feared to be injured in an explosion near a railway track near the Pishi, around 100km away from Quetta, area of Sibi on Friday.
The blast occurred when Rawalpindi-bound Jaffer Express was passing by the area that derailed the train two cars from the track, resulting in injuries to at least five persons.
The security forces have reached the blast site and cordoned off the area. The injured were moved to a nearby hospital. The train was coming from Quetta.
The railways authorities have said that train relief and rescue officials have been dispatched to the accident site.
As per the reports, the explosion destroyed train's engine and it tossed into a mountain ditch. Two bogeys of the train were also damaged in the blast.