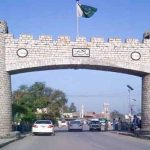 NOWSHERA: Nowshera Police has arrested two culprits involved in alleged sexual abuse of a 14-year-old boy in Misri Banda area.
Police said a 14-year-old boy filed a report against the accused for alleged torture, sexual abuse, making nude pictures and video. District Police Officer (DPO) Mansoor Aman took notice of the incident and formed a police team to probe the matter. The police team conducted raids at various places and arrested the accused, Yasin and Malang and sent them to lock up.
Police said that accused confessed their crime during initial interrogation. Further investigation into the case is underway.
Meanwhile, police in Dera Ismail Khan arrested an accused involved in sexual abuse of two children.
Jan Muhammad filed a report with police that his son and nephew were stopped by the religious teacher of the mosque after the end of religious lesson and he took them to a hujra (male guest house) where he sexually abused both of them. The teacher told the children to go to home silently, but the children narrated their ordeal upon reaching home.
The area people beat the teacher black and blue and handed him over to police. Police have filed a report against the accused and initiated investigation.
A sexual abuse suspect was also arrested in Peshawar on Friday.
He was accused by a 10-year-old boy of sexual assault in Dherai Korona village within the limits of Chamkani police station.