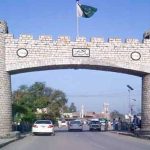 KARACHI: Holy Shab-e-Bara'at, the night of forgiveness and deliverance from the hell-fire was observed across the country tonight on Sha'ban-ul-Moazzam 15, 1436 AH.
Faithfuls offered night-long special prayers in the night of reverence and divine blessings to seek divine forgiveness. People in large number attended various gatherings included Mahafil-e-Na'at in mosques and other places to mark the holy night.
Ulema and religious scholars in their sermons highlighted the teachings of Islam and various aspects of the life of the Holy Prophet (PBUH) with respect to repentance and seeking Allah's pleasure. The houses, streets and especially mosques were decorated with colorful lights and buntings.
Faithful lit electric lights, candles or even oil lamps right from evening to the whole night. People in large number visited cemeteries to pray for the eternal peace of their loved deceased ones.
Shab-e-Baraat, is observed about 15 days before the start of the Holy month of fasting Ramazan-ul-Mubarak. Shab-e-Barat, a great advantage of Muslims is known as Laylat-ul- Bara'ah or Laylat-un-Nisfe min Sha'ban in the Arab world.
In Lahore also, the faithful are pouring into mosques including Data Darbar where the devotees are busy offering prayers and reciting the holy Quran in the mosque adjacent to the holy shrine.
Special security arrangements have been made to ensure peaceful observance of the Shab-e-Barat throughout the country.