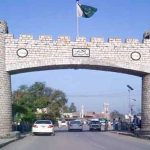 FAISALABAD: Opposition leader in the National Assembly and Pakistan People's Party (PPP) leader Syed Khursheed Shah stressed that Pakistan should have an independent foreign policy.
Talking to media here on Tuesday, he said that Pakistan would not take anyone's dictation on its foreign policy and advised that Pakistan needed to tread carefully in its engagement with the US.
He said that the PPP did not want any confrontation with the US but only an independent foreign policy for the country.
The opposition leader once again lamented the government for failing to appoint a foreign minister for four years before appointing Khawaja Asif.
Shah said that elections should be held as per the law and Constitution adding that the Senate elections would be held according to their schedule.