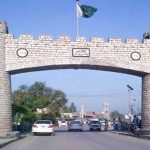 QUETTA: Pakistan Muslim League-Nawaz (PML-N), president and former chief minister Punjab Mian Shahbaz Sharif has reached Quetta on Sunday to express solidarity with the Mastung blast victims.
Shahbaz Sharif visited the residence of Aslam Raisani to condole with the family of Nawab Siraj Raisani, who along with over 128 was martyred in Mastung suicide blast. The PML-N president strongly condemned the suicide attack and expressed sympathy with the bereaved family. He also prayed for the eternal peace of the departed soul.
Talking to newsmen, he supported formation of truth commission for investigation into Mastung incident as demanded by Lashkari Raisani. He strongly condemned the Mastung blast and said that the whole nation was mourning the incident. He called for joint strategy to tackle with the current situation. He said that only one political party was allowed to campaign in the country, while others were facing problems. Senator Mushahid Hussain Syed also accompanied him.
Earlier, in a statement he said that PML-N has suspended its political campaign today (Sunday) to mark the observance of the national day of mourning regarding the Mastung tragedy.
A total of 131 people were killed after a suicide bomber struck Nawab Siraj Raisani's election meeting in Darenghar area of Mastung. Raisani, the brother of former Balochistan chief minister Nawaz Aslam Raisani, was a Balochistan Awami Party (BAP) candidate from PB-35 constituency.
Pakistan Muslim League (N) has suspended its political campaign today to mark the observance of the national day of mourning on the Mastung tragedy. The attack on political meetings is all the more worrisome given the elections are just ten days away.
It is responsibility of the Election Commission of Pakistan, interim govt and the law enforcement agencies to provide fool-proof security to the candidates and the political parties, he said. The future of Pakistan is linked with fair & free and above all peaceful elections, he added.