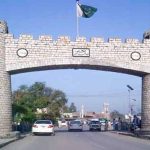 The Federal Shariat Court Friday admitted a plea of Jamiat Ulema-e-Islam (JUI) against Transgender Act for hearing.
The JUI had filed a petition in the Federal Shariat Court against Transgender Act (Protection of Rights) (Amendment) Bill, 2022, declaring it un-Islamic.
The party, in its petition, had pleaded with the court that any law against the Quran and Sunnah could not be passed in the country. "Transgender Act should be declared un-Islamic," the petition read.
The court will conduct a hearing on the JUI plea on October 3, 2022.