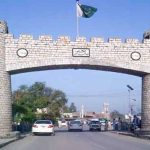 ISLAMABAD: The Met Office has stated that the Shawwal moon is likely to be sighted on Tuesday (tomorrow), and Eid-ul-Fitr will presumably be celebrated on June 5.
According to the Pakistan Meteorological Department (PMD), the birth of the moon will occur at 03:02 PM on Monday (today) and its age will be four hours and sixteen minutes at sunset. The moon will be 28 hours and 16 minutes old at sunset in Karachi on Tuesday.
The Met Office has said that the moon will remain on the horizon for one hour after the sunset on June 4, and moon sighting is expected on Tuesday across the country including Peshawar.
The Ruet-e-Hilal Committee headed by chairman Mufti Muneeb-ur-Rehman will meet at the PMD office tomorrow in Karachi for moon sighting.