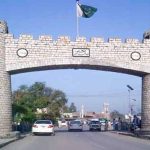 ISLAMABAD: The Sindh High Court on Monday was moved against the former Senior Superintendent Police (SSP) Malir, Rao Anwar for killing more than 250 innocent people in fake encounters.
In his petition – naming Sindh Chief Secretary, Inspector General of Sindh police, Deputy Inspector General of Police (East) and Rao Anwar as respondents – Advocate Muzamil Mamtaz Meo Rajput alleged that Anwar had killed innocent people in staged encounters.
He added that either relatives of the deceased people in "the encounters" did not seek action against Anwar out of fear or the authorities did not pay any heed to the people who approached high authorities.
It merits mentioning that in the past, SSP Anwar was sacked several times over fake encounters but he was reinstated.
Rao Anwar is facing an inquiry into the extrajudicial murder of Naqeebullah Mehsud – a 27-year old youth from South Waziristan – who was killed in an alleged encounter with police party headed by Anwar.